VLTs SOFTWARE
Imperium-Games offers its clients a high quality software for VLTs which can be used for operating in the interactive or bookmaker clubs, and also in any other places of free time passing. Terminal is a computer device, connected to the Internet, to one or two monitors, to a currency validator, to a dispenser, to a printer and to a magnetic card reader ( RFID ) device .
VLTs – player
The first type of software is a software for lottery terminals VLTs- player which was made for the direct gaming on the terminal itself, including both payment and withdrawal of funds via it. More than 600 game slots are available to the players, quick bookmaker games and Imperium- Bet sports book, bonuses and jackpot.

For two – screen terminals the multilevel club jackpots was elaborated, which is displayed on its own screen. The terminals that use only bookmaker software can use the second screen to display live – broadcast of sport events.
VLTs – cashier
Software – cashier allows a gamer to sign up , obtain his login and password , a link for entering the game via mobile device or personal computer . Playing slot and bookmaker games is possible from any place with the Internet connection available.
Replenishment and withdrawal of funds from a player account can be performed via terminal with this type of software , a cashier in the gaming – hall or via online casino .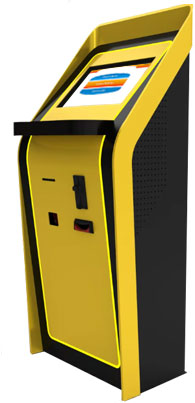 Affordable, high-quality, fast
We are perfectionists, that's why our equation is infinite and achieved results are always considered not as the set limits, but as a basis for further improvement and enhancement. As a true provider of all-system channels, we can supply a server game system designed to work in bookmaker offices, internet casino terminals and retail stores. All VLT casino software we provide is safe and tested under heavy loads.
Why should you choose us?
The package includes extensive management tools with a partner system for casino routing operations and SAS protocol for specific jurisdictions. This is compatible with bill acceptors and printers and comes with tailor-made lobby design and game settings. We also make great gamification tools that players love. The casino terminals software is provided in HD quality. Our tools help you with your entire player life cycle: acquisition, retention, reactivation and VIP management. They're a proven success.