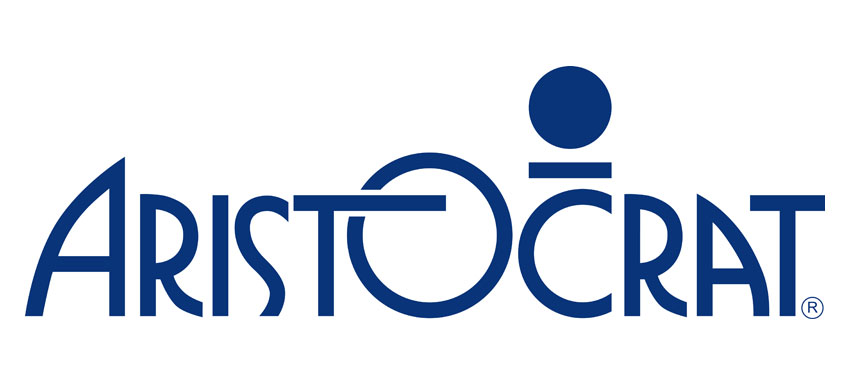 In 1953 Aristocrat Leisure was born. This marked the start of a great company story that's still being told today. Currently its headquarters based in Sydney, Australia. Aristocrat is the largest gambling machine manufacturer in Australia, and one of the largest manufacturers of slot machines in the world, currently second only to International Game Technology.
They did in the fifties the game-changing machine that introduced advancements like 'self-lubricating reel assembly bearings' and a 'free-play lock.' Glamorous? Perhaps not. Revolutionary? Absolutely. An undeniable game-changer and hot-on- the-heels of this innovation, they soon invented the world's first poker machine with fully lit reels and scorecard. Remember, it was like 70 years ago.

Now Aristocrat is something really gorgeous, big and surely powerful. Strength in the face of adversity. Aristocrat's game portfolio began to attract accolades in our largest market, the US. Their proprietary 'Buffalo Stampede' became the top for-sale game, while their licensed title the 'Walking Dead' was named 'Casino Product of the Year' at the Global Gaming Awards. In Asia, 'Five Dragons Legends,' was voted 'Best Standalone Slot Game.' Aristocrat also welcomed Video Gaming Technologies (VGT) into the family, stepping into the exciting world of Class II where hot titles such as Mr Money Bags and Hot Red Ruby are keen favorites amongst customers.
TOP GAMES BY ARISTOCRAT LEISURE
Hit games such as 'Vikings, War of Clans' and 'Sparta,' would be a welcome addition to our expanding digital games portfolio, taking you into new genres including role play and strategy games and bringing new digital capabilities to Imperium-Games! Desktop games such as 'Gummy Drop,' 'Cooking Craze' and 'Big Fish Casino', you should pay attention to these too.
Innovation, creativity and a desire to harness the power of play means our future looks bright. Are you up for the challenge of shaping what that looks like? Get in touch and start your journey with us today.
DO YOU WANT TO BUY ARISTOCRAT GAMES?
The general cost of online casino games depends directly on your choice of providers.
IG's managers are always ready to provide you with a commercial offer at a price that would comply with your expectations.
New slots from different developers
The competition among online slot suppliers is very strong, and dozens of studios are constantly launching new slot machines. They come out at different times, from different developers, but all the latest releases we collect on this page. Anyone can test the demos. New slots are constantly updated.
It's easy to use our compiled list of casino providers. You choose the provider you like, read our short review about our partnership with this provider, and click on the "Get a commercial offer" button. For anyone interested, we can provide demo versions of slots you like. So you can run the slot and play it to test it. All the details of your future purchase, you can ask our managers. You will discover what you can expect from the game – its payoff percentage, volatility. An important factor in the impression that will make on the player slot is the variance. The variance tells you how often the payouts will be and how large they can be.
All slots HTML5 . It allowed the production of new online casino slot machines regardless of the platform – one option for all devices. They run directly in the browser, so there is no need to download anything.
Best new online casino slots
Online slot production is the most active area in the development of game software, and there are a huge number of studios. However, not all of them regularly add new slot machines. Consistency is marked mostly by large and medium-sized developers. And there are developers who produce frankly weak products. Only from time to time there are really unique slots. New slot mechanics is the rarest of all, as it is not so easy to come up with something completely different. Thousands of online slot machines have already been released. But Think Different. Our company gathers the best possible products on the market into one ready-made offer.
Contact us and you will find quite a few interesting things